Soap on a Rope Tactical Pouch Scrubber
047682
Our Price:
$16.50
& FREE SHIPPING on all orders over $99
---
Duke Cannon Soap on a Rope Tactical Pouch Scrubber
+
-
Product Description
This is soap-on-a-rope redefined. 
This U.S. military-grade tactical soap pouch should be standard-issue for every shower.
To maximize hygiene in tactical situations, this equipment is engineered with a coarse mesh to scrub your hands and feet, and a softer mesh for less rough areas.
The 550-mil-spec paracord keeps your large soap off the ground. Perfect for home, outdoor, field, or prison showers.
+
-
Sizing
| | |
| --- | --- |
| Size X: | 0 |
| Size Y: | 0 |
| Size Z: | 0 |
| Volume: | 0 |
| Weight: | 0 |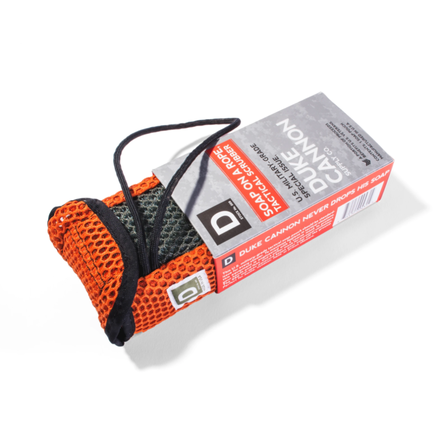 $16.50
Duke Cannon Soap on a Rope Tactical Pouch Scrubber
You May Also Like