Men's No 63 Soap on a Roap 29612SR
010597
Our Price:
$19.80
& FREE SHIPPING on all orders over $99
---
Pre de Provence Soap on a Rope
+
-
Product Description
Product Description
Get a grip! Shea Butter enriched 'Soap on a Rope' lathers gently, cleansing skin. Messy soap trays are eliminated. And soap dries faster and lasts longer. Happy Sudsing!
Made with men's skin in mind, this soap bar has been quad-milled or processed four times to create a smooth and long-lasting bar that will not melt away in your shower when not in us. Made to moisturize and hydrate with no residue, leaving only a spicy fragrance behind. Enriched with Shea Butter and other vegetable-based ingredients.
Aromatic, warm and spicy in nature, No.63 is a classic expression of masculine fragrance with a peppery citrus top note rounded by woody cedarwood, juicy plum, and violet leaves that finish into an ambery base of leather and tobacco.  
7 oz./200g
+
-
Sizing
| | |
| --- | --- |
| Size X: | 0 |
| Size Y: | 0 |
| Size Z: | 0 |
| Volume: | 0 |
| Weight: | 0 |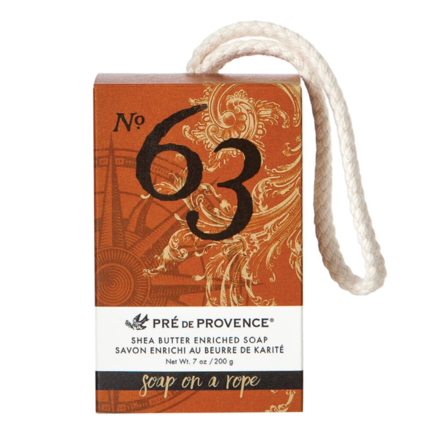 $19.80
Pre de Provence Soap on a Rope
You May Also Like